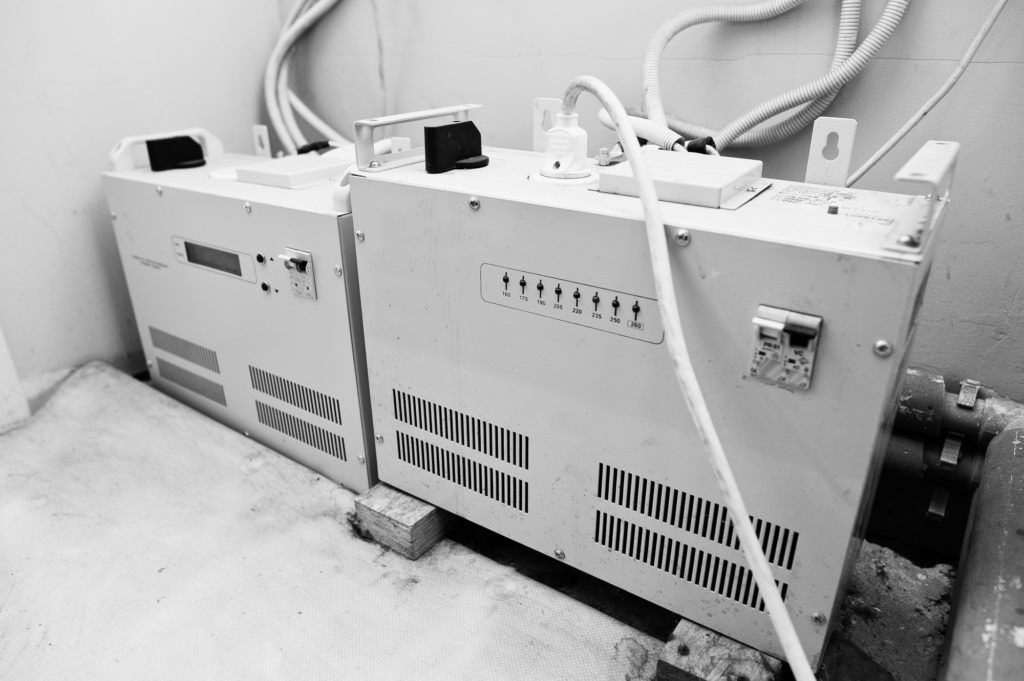 As the name suggests, an emergency power supply unit is a critical electrical component of every building. Also called an Uninterrupted Power Supply, the unit is aimed at providing emergency power to load your equipment and systems during power failure. Contrary to a stand-by generator or auxiliary power system, this unit offers better and instant protection from mains power interruptions through one or more in-built batteries. For buildings that usually require high wattage, the unit can also be linked to flywheels or generators.
International Fire Codes require that the system should be able to efficiently run for about 5 to 15 minutes after power failure to allow time for bringing an alternative power source or proper shutdown of critical equipment. Emergency power supply units were originally used in naval ships during World War II. Today, emergency power supply units serve a wide range of applications including homes, offices, telecommunication centres, data processing enclosures, hospitals, shopping centers and factories.
Benefits of Emergency Power Supply Unit Testing & Inspection
While emergency power supply units are not limited to protecting specific electrical equipment, it typically protects vital devices like computers, machinery and other devices that could cause accidents, serious loss of data or disruption to critical business activities during unexpected power outages. However, the unit can only perform these functions if it is kept in proper condition at all times. Regular emergency power supply unit ensures that the system remains in better state for optimum performance at any time of need.
Emergency power supply units, especially the smaller ones rely on batteries to power equipment in case of power failure. Similar to other common batteries, these ones also lose charge and wear out after a period of time. Whenever that happens, the unit will not be able to function as required during a power failure, putting you and your devices in danger. Regular inspection and testing will ensure that the batteries and any issues that may hinder the performance of the unit are identified and fixed on time. That will provide the assurance that your electrical equipment and machinery have better protection against the effects of power failure.
Scheduled emergency power supply inspection and testing is a mandatory requirement by the fire safety regulations Singapore. Hiring a professional to thoroughly inspect and test your emergency power supply unit will no doubt enable you ensure compliance with the national and international fire safety protection codes. Besides, it also helps to minimize the risks of accidents and damage to your assets during fires. Compliance with the Fire Code will enable you to avoid unnecessary legal actions that could include huge fines and even the closure of the building.
Professional Emergency Power Supply Unit Inspection & Testing Singapore
At Fire Safety Singapore, we understand the risks that you and your electrical equipment can be in without proper and regular emergency power supply unit inspection and testing. Thus, we provide reliable and tailor made inspection and testing of emergency power supply units in residential and commercial property across Singapore. Our procedures are conducted by licensed technicians and cover a wide range of areas to make sure that the entire unit is in the best shape to support and protect your equipment at the time of need.
Our emergency power supply unit inspection and testing involves several activities that include but, not limited to the following.
Thorough examination of all the parts and components of the emergency power supply unit including batteries, control systems, wiring and related concepts.
Measuring current flows and short circuits in the power distribution network as well as response to synchronization.
Evaluating short circuit resistance and inspecting conditions for shutdown.
Developing custom emergency power supply unit grading or tripping plans.
Analyzing the networks of power supply and implementing appropriate protection measures.
Testing the overall performance reliability, efficiency and safety of emergency power supply units.
When conducting the inspection and testing of emergency power supply units, we also go further to review the building code requirements for compliance with Singapore fire safety regulations. Based on the manufacturer's instructions, or warranty of the unit, its state and your expectations, we can schedule proper inspection and testing on the most appropriate schedules.
Contact us today for reliable and professional emergency power supply unit inspection and testing Singapore.
HDB Registered Contractor
License Number: HB-09-5474D