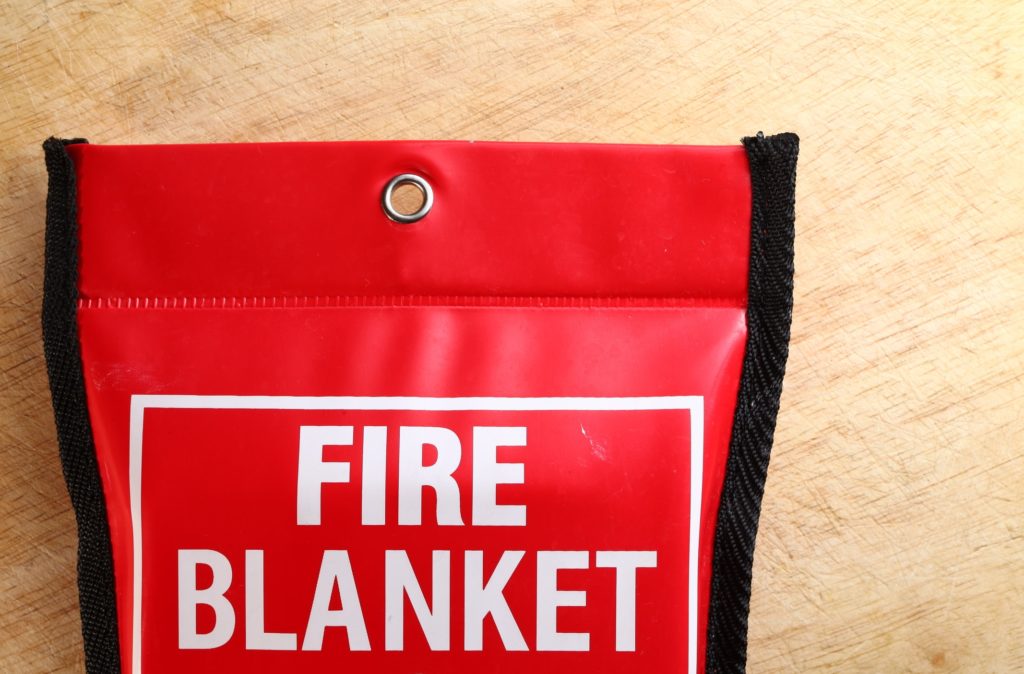 Fire blankets are critical fire safety equipment for putting out small fires in the early stages. As simple as some may think of them, fire blankets can rapidly deprive flames of oxygen, thereby cooling off the heat and stopping the fire before posing any major risks. As such, having them at home or in other small enclosures can always go a long way in saving lives and protecting your assets in the event of a fire emergency.
If a fire starts in part of the building and catches someone's clothing, covering them with a fire blanket can easily put out the flames. Besides, fire blankets can also be used to cover the body when escaping from a building on fire to avoid getting burns. Even if fire catches maybe the countertops or floors in the kitchen, covering the flames with a fire blanket will extinguish them in just minutes.
Fire blankets can also put out small outdoor fires that mainly occur in fire pits, grills and other controlled environments. A fire blanket can be used for fire protection in various situations by both adults and kids. All the above benefits of fire blankets prove they are essential for your safety as well as that of the other people and assets in the home. At Fire Safety Singapore, we offer a huge selection of highly efficient fire blankets.
Choosing Fire Blankets
In most occasions, fire blankets are placed in kitchens where they usually come in handy during small fires caused by fats and oils. However, fire blankets can also be effective in other areas to promptly put out small fires. As a result, the products come in various options that you should know how to choose in order to get the most suitable one for your protection. Read on to find out how to easily choose the best fire blankets.
Fire blankets are mainly manufactured from woven fiberglass with a special coating that comprises of a fire retardant material. The blankets are enhanced with grab handles used for rolling them out over flames. The woven fiberglass and fire retardant coating gives the fire blankets better density and resilience to high temperatures, which enables them to provide proper protection against small fires.
Depending on the fire threats on your building, there are fire blankets designed to resist heat levels of up to 1,000 Degrees Fahrenheit. These can be great for protection during evacuation from buildings on fire. However, they can also rapidly extinguish small fires in outdoor environments.
The selections of fire blankets that we stock at Fire Safety Singapore are made from quality fiberglass with proven fire retardant coating that guarantee the best protection both in the kitchen and enclosed outdoor environments. We also provide fire blankets in diverse sizes that you should carefully select based on the intended applications. The main sizes available include 1m X 1m, 1.2m X 1.2m, 1.2m X 1.8m and 1.8m X 1.8m.
Depending on where you plan to use the fire blanket, it is always important to get a proper size that can effectively cover the areas. For instance, if you intend to use the fire blanket in the kitchen, it is advisable to get a size that can cover the countertops. On the other hand, if you are buying fire blankets for your kids to cover their bodies in case of fire incidences, you need to get smaller sizes that can suit them without a lot of excesses.
At Fire Safety Singapore, we work directly with leading manufacturers of fire safety products to always deliver industry standard fire blankets. Besides, we always inspect every pack to ensure that the blankets are in the best condition for optimum protection before sale. That ensures you always get the best quality fire blanket that will truly meet your fire protection needs both at home and in the office or business.
Order Fire Blankets Singapore
If you are looking to order a fire blanket Singapore, Fire Safety Singapore is the trusted partner to engage. After a proper assessment of the fire risks in your home or commercial building, we will recommend and, provide the best fire blankets. Our company also specializes in custom servicing, repair and maintenance of fire protection systems. Simply talk to us for quality and affordable fire blankets Singapore.
HDB Registered Contractor
License Number: HB-09-5474D