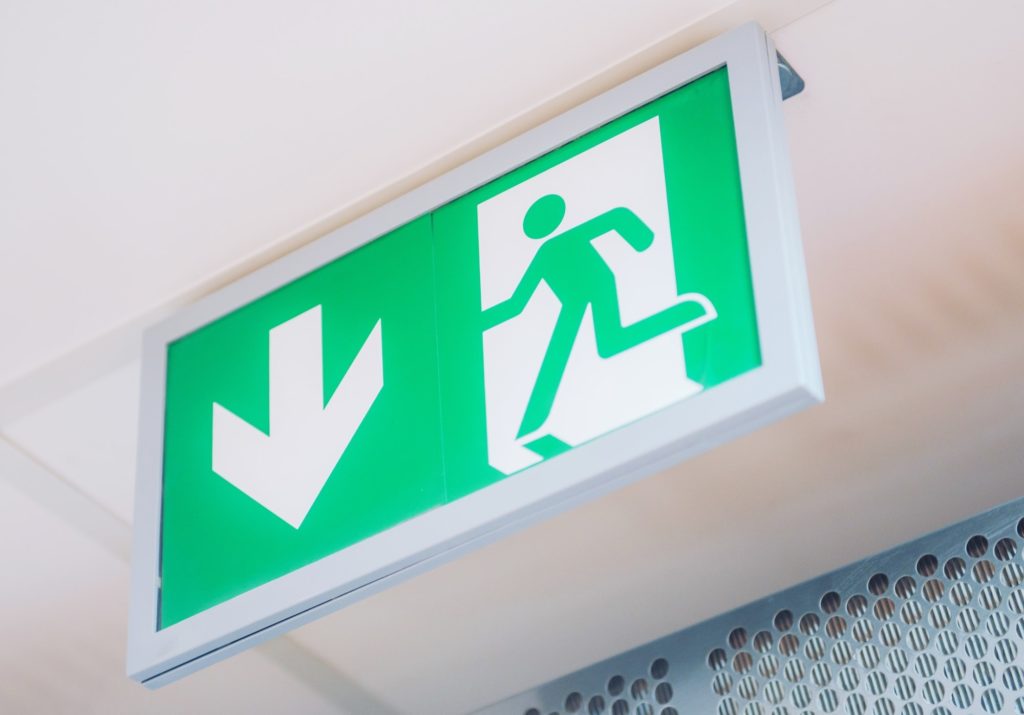 In large and high-rise buildings with multiple floors, rooms and unique access features, escape during fire emergencies can be a great challenge to the occupants. As such, it is always essential to designate a clear path with the right systems to guide people to safety during fire. That is one of the key functions of exit and emergency lights.
Exit and emergency lights are recommended for buildings to show people the routes of escape whenever there is a fire emergency. They produce sufficient light to illuminate the egress path for a limited time so people can safely evacuate. In most cities around the world today, it is mandatory for all public buildings to have exit and emergency lighting.
The optimal visibility provided by exit and emergency lights can go a long way in saving lives by preventing accidents. Besides, the lighting can also help with the safe shutdown of hazardous processes to protect machines and equipment. At Fire Safety Singapore, we provide quality exit and emergency lights for commercial and industrial spaces Singapore.
Choosing Exit & Emergency Lights
While they are offered as a package, exit and emergency lighting are designed in two parts. Besides, these fire safety products have unique features and aspects that you should consider when buying them in order to get the right ones for your building. At Fire Safety Singapore, it is our duty to enlighten you on some of the basics of the system before hand for informed decision making.
Whenever a fire breaks out in the building, exit signs will show directions towards the escape routes while emergency lighting illuminates the areas to ensure the safe passage of people and termination of any risky processes. International fire standards require that the sign bears the words ''EXIT'' written in bold letters visible from far. For better visibility, our exit signs are designed with conspicuous colors including red and green.
The exit signs have internal illumination that enables them to effectively function even during power failure. The exit signs can also function as directional signs. They are designed with provisions to enable you switch the EXIT words with a sign like an arrow pointing towards the required direction. That ensures greater flexibility in their application.
International fire safety standards require that quality emergency lighting should be able to illuminate the escape paths for at least 90 minutes in the event of an emergency. Since power failures also often occur during fires, we recommend and provide exit and emergency lights with in-built power backup. The powering options range from battery packs, photo-luminescent tape to self-luminous tritium. Depending on your needs and the spaces where the lights will be installed, we can help you choose the most efficient powering option.
To avoid accidents and ensure better visibility during escape, the emergency lights installed on your building should provide sufficient illumination. Fire safety codes state that the lighting for emergency must provide an initial illumination of 10.8 lux or one footcandle. As such, we stock emergency lights in different wattage and other special features like halogen heads for ensuring proper illumination in various living and work spaces during emergencies.
Our company also offers self-testing emergency lights. These new-age systems can independently conduct continuous monitoring of the voltage input to the unit and condition of the backup battery. In case of any issue with the fixture, it will signal an indicator light for immediate service or repair, ensuring greater convenience when it comes to fire safety.
Another important thing that you should consider when buying exit and emergency lights is the number of escape routes on the building. It is always recommended that every exit route on the premises has a dedicated exit sign and emergency light. Regardless of the size of your building or its floor plans, we can provide the right quantity of industry-standard exit and emergency lighting.
Since these products will also be part of your overall decor, we also provide them in unique styles to choose from.
Order Exit & Emergency Lights Singapore
Fire Safety Singapore is the right place to order quality and affordable exit and emergency lights Singapore. Our company also provides professional maintenance, service and repair of fire protection systems. Talk to us today for the best exit and emergency lights Singapore.
HDB Registered Contractor
License Number: HB-09-5474D