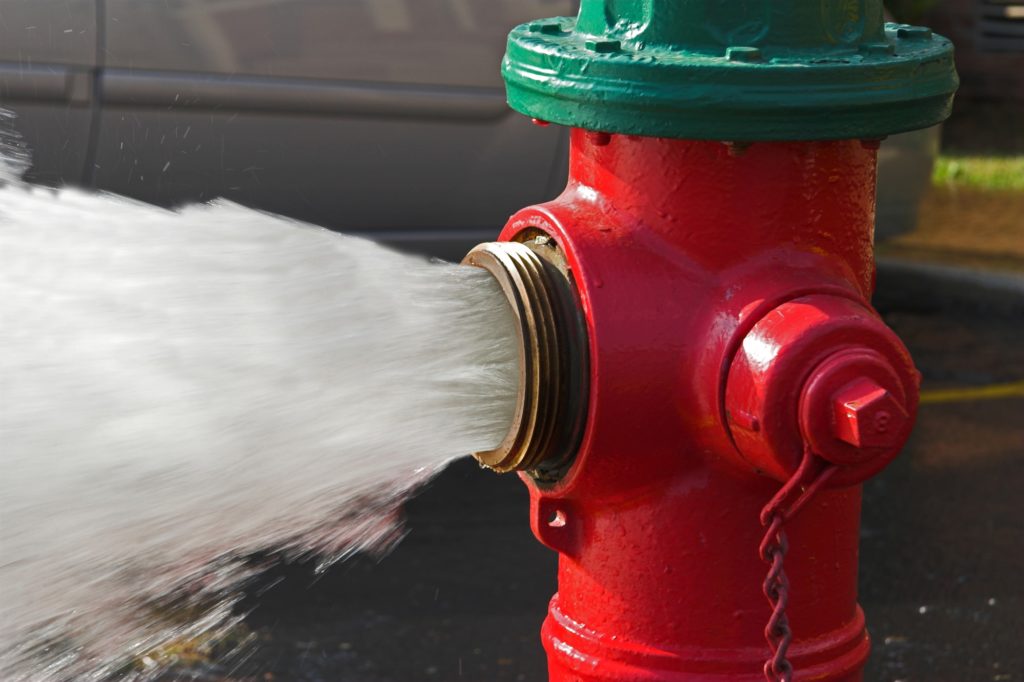 Fire hydrants are critical fire protection systems mainly used to fight fire in expansive commercial and industrial spaces. Today, they are also fitted on large residential establishments to facilitate easy access and supply of large volumes of water during fire emergencies. Fire hydrants are connected with hoses or piping to supply water under high pressure to the parts of the building affected by fire
During their installation, fire hydrants are linked with water supply pipes buried underground that enables them to supply large volumes of water quickly. Whenever a fire outbreak occurs on the premises, fire fighters will only need to connect hoses to the fire hydrant to access water for putting out the fire. However, connecting the hoses to the system requires a special tool for removing the valves. That is why it is why only fire-fighters should operate it.
While a single fire hydrant can serve a large area during fire emergency, it is always recommended that every property has its own for convenience. Relying on the fire hydrant in your neighbourhood will only put you and others in great danger during a fire threat. At Fire Safety Singapore, we can deliver the best quality and efficient fire hydrant to enhance better preparedness and response to fire emergencies on your premises.
Choosing Fire Hydrants
Although fire hydrants are a common sight on residential, commercial and industrial property across Singapore, choosing the right ones is often a challenge to most people. Without the right fire hydrants, you are not only risking the lives of the people in the premises but, also your assets therein. To enable you make informed decisions on suitable fire hydrants, we have discussed some of the essentials of the products below.
One of the things you should keep in mind when buying fire hydrants is that there are two main types available in the market. These include wet barrel and dry barrel fire hydrants.
Wet barrel fire hydrants
This is the conventional fire hydrant that laid the foundation for the modern systems. It is designed with above-ground mechanical components. That helps with preventing elements of damage like debris from getting into the unit. It also has easily accessible nozzles and valves, each working independently to facilitate efficiency. With this type of fire hydrant, fire fighters can also easily connect several water discharge systems without affecting the flow. Wet barrel fire hydrants are primarily recommended for premises built on colder areas. Quality wet barrel fire hydrants can provide better fire safety for up to 100 years with proper maintenance.
Dry barrel fire hydrants
Unlike their wet counterparts, the main valves on dry barrel fire hydrants are fitted on the base. The benefit of this style is that it ensures no water is left within the system after use. As a result, there are lower chances of freezing or formation of frost that could cause damage to the fire hydrant. Dry barrel fire hydrants come in three kinds including toggle, slide-gate and compression function. Each type works differently but, both serve the same purpose of facilitating the supply of large volumes of pressurized water during emergencies.
Fire hydrant colours
Fire hydrants are also available in different sets of colours that you should properly understand before buying the products. The colors mainly apply to the nozzle caps and show different kinds of flow. The interpretations may vary slightly but, overall, valves marked in blue and red colours show heavier and slower flow, respectively. If you are looking to use the fire hydrant on expansive premises with several sections or occupants, fire hydrants with blue colour nozzles are the best. Red colour nozzles are suitable for less populated and smaller spaces.
The colour of the body of the fire hydrant is a personal choice but, it is always important to choose those with conspicuous colors that are easily to recognize for prompt and better fire response. We recommend and provide the products in yellow, red and other bold colors. In case the water comes from an untreated source like pond or river, we also provide violet colour fire hydrants.
Order Fire Hydrants Singapore
We work closely with high end fire hydrant manufacturers to provide highly effective and efficient fire hydrants that will sure meet your fire safety needs for many years to come. Contact us today for quality fire hydrants Singapore.
HDB Registered Contractor
License Number: HB-09-5474D